Digital Marketing Agency California
The internet has changed the way we live our lives. It's now an integral part of what we do, and it's important to have a plan for your online marketing. A digital marketing agency in California can help you with that.
We get the best return on investment from our businesses when we utilize digital marketing strategies such as SEO, SEM, and social media marketing. Here is a list of some of the most effective ways to get your message out and grow your business in California:
What is digital marketing?
Digital marketing is a broad term that encompasses many different strategies used to drive traffic and sales for a business. Digital marketing can be done through online ads, social media, email marketing, or even text messages. There are many different strategies you can use in digital marketing to reach your desired audience.
What is your digital marketing goal?
When beginning the process of choosing a digital marketing agency in California, you need to determine what your digital marketing goals are. Are you trying to increase brand awareness? Are you looking to increase traffic to your website? Do you want to generate leads? These are just some of the many goals you might have. Once you determine your goal, you can skip the process of looking at agencies that do not specialize in that area.
If you're not sure what type of digital marketing campaign you need, it's best to hire a company that offers a wide range of services. This way, you can choose which services best suit your campaign. This can save you time and money since you won't have to go through the process of hiring multiple agencies.
The benefits of digital marketing
You can target potential customers more precisely than you can with traditional marketing
Digital marketing is a great way to establish an authoritative online presence
Key components of a good online marketing strategy
We offer a range of services, but the key components of a good online marketing strategy are search engine optimization (SEO), social media marketing, and pay-per-click (PPC).
Search Engine Optimization: This refers to all the things you can do to improve your website's ranking on Google. You can do this by including keywords in your content, using HTML tags that are relevant for a certain page on your site, and making sure your site is mobile-friendly.

Local SEO Service: When it comes to business, local is often the sweetest. Because people prefer to support businesses that are local and can have a direct impact on their community. Whether you have a brick-and-mortar store or an online retail presence, it's important to target your services or products to your local customers. Local SEO helps businesses rank higher in search results so they appear first when potential patrons look for businesses like yours in their area. To succeed with local SEO, you need to understand how Google indexes locations, understand geo-targeting and the value of citations, get local business listings and verify your address, have website content that targets geo-specific phrases, manage secondary attributes like hours of operation, and more. Read more: Local SEO Services California

Social Media Marketing: One way to get more followers is through social media. You can set up Facebook ads or buy Twitter followers to grow your platform.
Pay-Per-Click: These ads are placed at the top of search engine results pages. When someone clicks on them, they will be taken to your website.
Read more:
The importance of executing your strategy
Executing your marketing strategy is the most important part of digital marketing. You can't just invest in a strategy and hope it achieves the results you want. You have to take action on your plan and monitor the progress of your campaign to see how things are changing.
If you want to create a successful digital marketing campaign, you need to be able to adjust your strategy as necessary. For example, if one social media platform isn't as successful with conversions, then you might need to shift some ads over to another platform that is performing better. However, you first need to analyze what is working or not working so that you can make those changes effectively.
Who will be managing your campaign?
Digital marketing agencies have different departments that specialize in different areas. For example, there may be departments for SEO, PPC, social media, website design, and more. You need to decide which departments you would like to hire, and which departments you would like to do in-house.
For example, if you want to hire an SEO company, but you want to handle everything else in-house, you can do that.

If you want to hire an SEO company, but you also want to hire a content writer, you can do that as well. The choice is up to you, and it's important to consider what you can handle internally, and what you should hire an agency for.
If you decide to hire an external company for everything, you may be paying a lot of money every month. If you decide to handle everything internally, you may not have the experience or expertise needed to get the job done properly.
Create content that is relevant to your target audience
It's important for you to create content that is relevant to your target audience.
An example of this is creating content about topics that are popular in your target audience's geographical location. You can also use keywords to determine which topics will be best for a certain audience. These keywords can come from the topics they post on social media, search volume, and more.
Use the right social media channels for your business
You need to know your target audience and how they react to certain social media channels. The best way to do that is to assess which platforms your customers spend most of their time on.
If you have a younger target audience, use popular social media channels like Snapchat and Instagram.
If your target demographic is older, use YouTube, LinkedIn, or Facebook instead.
Measure and track your campaign's performance
The best way to know if your campaign is working is to measure the performance of your campaigns. This will show you the cost per lead, cost per click, and your return on investment. You can measure the value of your digital marketing campaigns with three main metrics:
Return on Investment: This shows you how much profit you make from your investment
Cost per Lead: What it costs for one person to sign up
Cost per Click: The money spent in order to get someone to click on a link
Test, test, and test again!
It's important to test your strategies to see what works best for your business.
For example, if you own a pet store, you might want to try targeting "dog lovers" instead of "dog owners." It's quite possible that the dog lover audience will be more responsive than the dog owner audience! If this is the case, then it's time to go back and modify the strategies accordingly. Testing different ideas and seeing what works best can help you better target your ideal customer.
Work with an agency that has a proven track record in digital marketing
An agency is the best way to go for digital marketing. Agencies have a proven track record of taking unknown businesses and turning them into major players in their respective industries. When you work with a digital marketing agency in California, you are working with professionals who specialize in online marketing; they know the ins and outs of SEO, website design, social media management, and more.
The professionals at your agency will be able to come up with a plan that will help your business grow online while also being successful offline.
Agencies know what strategies work best for your industry and geographic location, so they can take care of all the hard work for you. By partnering with an agency, you'll have time to focus on running your business day-to-day instead of working on how to market it.
Many agencies offer personalized plans for businesses based on their specific needs; this ensures that you're getting the most out of your investment. For example, if your company is new or lacks resources, the agency may recommend a low-cost campaign that will still provide great results. These campaigns are designed as starting points so that clients can grow from there depending on what's needed.
Digital marketing is necessary for any business looking to get ahead in today's competitive marketplace. Working with an agency gives companies access to experts who can take care of all the hard work for them – freeing up time to focus on running their businesses day-to-day!
Congratulations on taking your first steps to a successful online marketing strategy! This is just the beginning. You will have a lot of work to do in order to truly execute a successful campaign. However, this is not a one-time thing; it is something you will have to do on an ongoing basis in order to stay ahead of the competition.
Choosing the right digital marketing agency in California can be a daunting task for any business owner. It can be difficult to determine which agency is best for your company, especially if you don't know what to look for. If you follow these tips, you have a better chance of finding the right agency for your business.
But what if you're not sure where to start? What if you're not sure where to find the right agency for your business in California? We are here to help! We can provide you with the perfect solution for your business and we are affordable, too. We offer all the benefits of a digital marketing strategy, plus so much more. Let's get started!
With over 12 years of experience in the field of credit cards, POS systems, and digital marketing. Mac USA is proud to be a company, Vietnam has the largest market share in the United States. We currently support over 12,000 clients with cash flow processing over 1.5 billion USD per year.
Services using POS System
A POS system allows you to accept customer payments, track your sales, and manage your small business
Sell quickly – Tightly manage goods – Easy to use
We work with a range of different small business owners in USA. We have been able to cater to all sorts of niches and industries thus far, including the following:
With over 12 years of experience in merchant credit card, POS systems, and digital marketing, Mac USA is proud to be the largest market share for the Vietnamese community in the United States. We currently support over 12,000 customers with an annual cash flow of over $1.5 billion.
We are dedicated to become the first choice of payment, marketing, and business management solutions for Vietnamese in the US, Canada, and Europe.
With over 12 years of experience in the field, we have an impressive track record. With the largest market share in Vietnam, and over 12,000 clients with a cash flow processing of 1.5 billion USD per year Mac USA is proud to offer our services.

Reliable
More time and less hassle! With MAC-POS, I can now manage cash flow more efficiently, enhance our brand's awareness with a good tool like this and save lots of time not only for my business but also our customers. Customers can book appointments online with the help of MAC-POS software that saves both time and money on things such as advertising as well. For just $99 per year, it is such an excellent system to be used to improve all aspects of our business!

Quick & Easy
The MAC-POS system has made it possible for shops owners to manage the cash flow more efficiently. It is a good way to enhance or raise brands' awareness, and it saves lot of time not just for the shop owner, but also for customers! Thanks to this system, customers can book appointments online and wait less than before!

Good service
When I use the MAC-POS system, my business performance has improved a lot. Most of my aspects like managing time and money can be done with ease. Customers' satisfaction also increased because booking online which reduces waiting time for customers. It's a good system to boost your business

Easy to use
I've been using MAC-POS system for a while, I recorgnized that customers are satisfied with online booking service because they don't need to wait any longer that has so far improved the overall performance of my business. It's a great way for your business to grow
Partners &
Outstanding Clients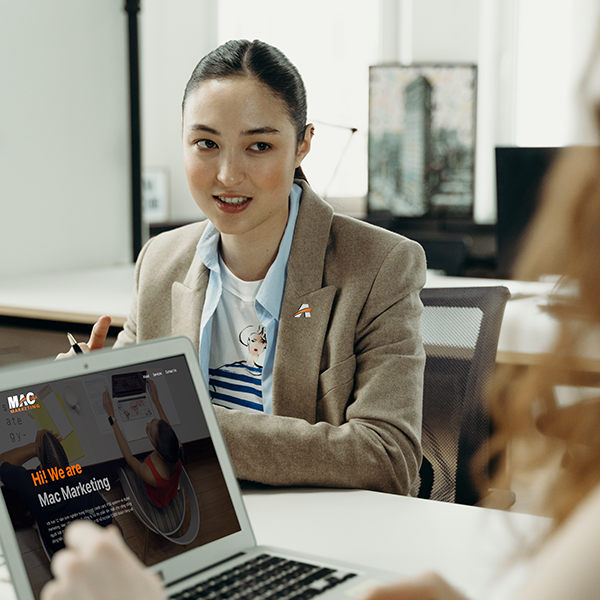 MAC USA is proud to be the largest market share for Vietnamese in the United States. Our current customers have an annual processing volume of nearly $1.5 billion a year.
Digital marketing is an excellent way to entice new consumers and grow your company. Digital marketing is economical, scalable, and measurable, and it works best if it is tailored to your unique goals and audience. With a few effective strategies, you can assure your digital marketing efforts are producing results for your company.